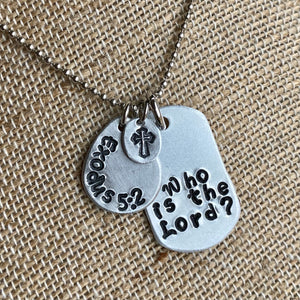 Bible Scripture Charm Necklace - Metal Stamped Custom Made Necklace
We walk by faith...but sometimes we need a reminder in front of us!!
Your piece of scripture will determine the style of your large tag. Please contact me first if your scripture quote is more than 20 characters to ensure I'm able to accommodate. The medium tag will show the scripture reference and may need to be shortened to fit. The small tag is stamped with a cross.
These charms are aluminum tags stamped according to order. I then distress them a bit for an attractive everyday casual piece. The longest pendant measures approximately 1 1/2" long. An easy-cut aluminum ballchain is included  - just cut between balls with scissors for a custom fit!.
As always, custom orders are not only accepted but very much enjoyed! Please let me know if you have something special in mind and we can work together on your project!
Please feel free to convo me with any questions!