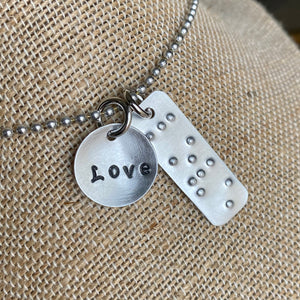 Braille & Print Love Charm Set - Hand Cut Metal Stamped Tags
This hand cut metal stamped tag set includes two charms, one reading "love" in Braille and one in print. 
These charms are cut from sheets of aluminum and stamped according to the order. I then distress them a bit for an attractive everyday casual piece. The longest pendant measures approximately 1 1/2" long. An easy-cut aluminum ballchain is included  - just cut between balls with scissors for a custom fit!. 

As always, custom orders are welcome!!! Please let me know if you have something special in mind and we can work together on your project!
Please feel free to send me a note with any questions. Thanks!