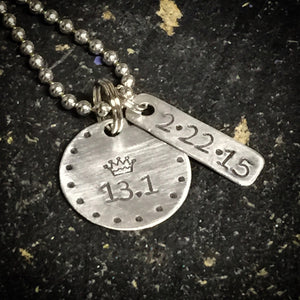 Princess Run Half-Marathon Metal Stamped Necklace
Inspired by the Disney Princess run!!! The aluminum disc is 7/8" and stamped to order. Let me know if you need a little alteration and what your date to remember is!
An easy-cut aluminum ballchain is included as well - just cut between balls with scissors to custom fit!
As always, custom orders are not only accepted but very much enjoyed! Please let me know if you have something special in mind and we can work together on your project!
Please feel free to convo me with any questions!